WHY WRAP?
In the old days, if you wanted your car to be a different color your only option was to have the entire thing completely repainted. This usually took weeks if not months at a regular body shop, would ruin the resale value of your vehicle, and would cost upwards of $8,000! Luckily there is a new way to change the color of your car without having to deal with any of those downsides. Using large sheets of 3-4 mills thick vinyl, NorthWest Auto Salon can custom wrap your entire vehicle in one of the many different colors we offer. As every car has a different shape, each vehicle is like a game of chess where we strategize to minimize the amount of (or even eliminate when possible) seams in the vinyl to give your vehicle the best look possible.
MATERIALS & INSTALLATION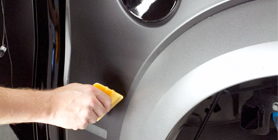 The products we put on the vehicles we wrap are premium, top of the line, automotive grade vinyl films. This vinyl is specially designed for use on vehicles using paint-safe adhesive, malleability, and air-release features that make installation on your car as safe as possible. Unlike a repaint which will ruin the original value of your vehicle, a vinyl wrap will actually protect it! Because the entire vehicle is covered with 3-4 mils thick vinyl, the paint surface is protected from most regular road debris. Another reason wrapping a vehicle is a far better idea then repainting it is that the wrap is not permanent. If, after a while, you want to change the color or go back to the stock look, the wrap can easily be removed by one of our skilled technicians. By using us for the uninstall, we can assure you that your vehicle will be returned to the same condition as before it was wrapped.
Our wrap installers have over 20 years of combined experience applying vinyl wraps to commercial vehicles and it shows in the quality of the work. Since we let our work speak for itself, we pride ourselves in achieving excellence on every wrap. We challenge ourselves to a higher standard than the rest of the industry by raising the bar with every wrap, and utilizing the latest materials and equipment to keep our skills ahead of the curve. It is very important to have an experienced installer, as one of the dangers of this process is the proximity of a sharp blade to the paint. Often times, places who offer wraps will leave razor marks on the painted surfaces from the custom installation processes required. Our procedures ensure that there will be no cuts directly onto the vehicle.
GRAPHICS & CUSTOMIZATION
The versatility that vehicle wrapping offers has also opened up new possibilities for personalization. Many manufactures are taking notice to the recent rise in popularity of graphic additions and offering minimal options to the consumer as "custom graphic packages." Here at NWAS, our highly trained creative team will work with you to develop a TRUE custom graphic package for your vehicle – from mild to wild, racing stripes to racing liveries, we can deliver an original & one of a kind look for any vehicle in your stable.
Own a growing business?
Vehicle branding is an easy way to generate visibility and advertise to the general public without having to worry about costly & potentially ineffective print campaigns or not reaching your demographic. We take great pride in our own branded courtesy cars and have seen nothing but positive results from the looks that a commercial wrap can produce!
If you have any questions, our extremely knowledgeable and experienced staff would be happy to help.
[line_top]
PRICING
| | | | |
| --- | --- | --- | --- |
| VEHICLE | BASE PRICE | INCL. DOOR JAMBS | EXAMPLE VEHICLES |
| SM COUPE | $3750 | $4200 | Audi TT, Infinity G35, Nissan 370z |
| XL COUPE | $4000 | $4500 | Audi S5, BMW M6, Nissan GTR |
| SM SEDAN | $4000 | $4750 | Lexus IS350, BMW 325, Audi A4 |
| XL SEDAN | $4250 | $5000 | Lexus LS, Mercedes S Class, Audi A8 |
| SM SUV/WGN | $4500 | $5250 | Ford Escape, Subaru Forester, Land Rover Evoque |
| REG SUV/WGN | $5000 | $5750 | Range Rover Sport, BMW X5, Mercedes G Wagon |
| XL SUV/WGN | $5500 | $6250 | Escalade ESV, Denali XL, Ford Excursion |
| TRUCKS (NO BED) | $5000 | $5750 | Toyota Tacoma, Ford Raptor, Nissan Frontier |
NOTE: A complete wrap includes door jambs, inner door frame, and sills. This level of vehicle coverage is recommended for those who desire a full color change. See an example here! All prices shown are base prices,and will vary depending on the vehicle type, surface complexity, and film used. NOTE: prices do not include full vehicle disassembling or re-assembling, or removal of previous films, wraps, and clear bra.
[line_top]
ACCENT OPTIONS
| | |
| --- | --- |
| CUSTOM | STARTING PRICE |
| STRIPE INSTALL | $250 |
| DUAL STRIPES | $400 |
| MIRRORS | $150 |
| HOOD | $250 |
| ROOF | $350 |
| TRUNK | $225 |
| ALL THREE (HOOD, ROOF, TRUNK) | $650 |
| GRAPHICS | QUOTE |
| TRIM & SURROUNDS | QUOTE |
[line_top]
Check out our vehicle wrap gallery for examples of our work!