The "RS" designation at the beginning of an Audi model name denotes the uppermost echelon of Audi performance vehicles. Originally the Audi RS4 was only produced as a 5 door Avant (station wagon) and was never even brought to the US. However, when Audi saw how well the car was received by the enthusiast community here in the United States, they answered their prayers and brought the RS4 to America for the B7 model year. While they still offered the RS4 as a avant in Europe, the US only received the 4-door sedan version. That was until later in the model line up when they started to offer a convertible 2-door version for the first time ever!
This RS4 was already in pretty good shape when it came in but it needed a little work to bring all of the shine back and keep it protected from the elements. The first step of this process was a convertible top cleaning. Here, we applied a water repelling sealant to the retractable top in order to make sure it continued to keep the interior protected from the elements. Next was our leather restoration interior detail. In this step, rejuvenating oils were applied to the leather surfaces in order to restore that "like new" look, feel, and smell. The final step in this detail was our Enthusiast Detail. In this step, not only did it get our full hand wash, but it recieved a full two stage machine polish. After the paint correction process, it received synthetic sealant applied to all paintwork, headlights and rear lights. Check out the whole process below!
Working on the convertible top

After being clay bar'd, it was then time for the paint correction process

Since the front end had a standard clear bra kit, the area was taped off so that wax didn't make it under the edge of the clear bra.

As you can see, newly treated convertible top has been covered in order to keep wax and polish from making their way into the fibers.

Here the leather conditioner is being hand applied and worked into the leather hide of the seats and left to sit to be removed later.

And now for some after glamor shots!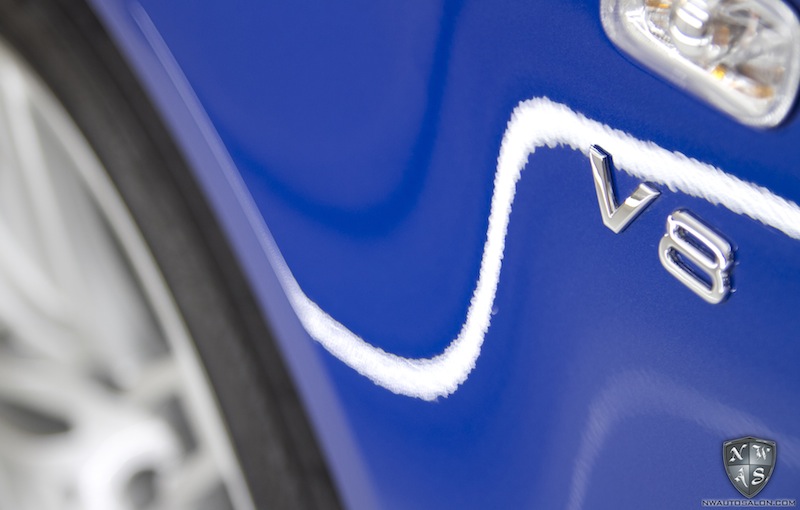 Thanks for reading!