As many of you know we've had the pleasure of working with some very rare automobiles here at NWAS. The one that was trailered up from Motoring Unlimited's facility in Issaquah however, reaches towards the upper echelons of extraordinary.
Mill Creek Auto Detailing NorthWest Auto Salon Motoring Unlimited Audi Sport Quattro Green


While it was originally designed as a programme car and developed for homologation within the Group B rally class in 1984, the Sport Quattro also sold as a production vehicle in extremely limited numbers – ranking it fairly high on the proverbial list of "hard to get a hold of" autos. Only 224 examples of the Sport Quattro made it into existence, a handful of which were lost to Group B's death defying races; the remaining few have long since been scooped up by Audi AG and an assortment of private collectors around the globe. Luckily, Motoring Unlimited just so happens to be housing one of the only remaining road prepped Sport Quattros in the United States – and fortunately enough for us, they brought it in to receive a full Enthusiast Detail and a complete interior detail.
Mill Creek Auto Detailing NorthWest Auto Salon Motoring Unlimited Audi Sport Quattro Green


Once the Sport Quattro rolled into the wash bay, it was quite easy to see the heavy beating the paint had received over the years even without an up-close LED inspection.
Mill Creek Auto Detailing NorthWest Auto Salon Motoring Unlimited Audi Sport Quattro Green


Popping the hood and de-greasing the engine bay revealed some beautiful raw carbon-kevlar weave – a material that comprises a majority of the Sport Quattro's body panels. Carbon-kevlar is extremely strong & durable in construction and often still used today in race applications, but its surface doesn't take to polishing very easily; this was a factor our techs would soon discover upon completing the Quattro's hand wash.
Mill Creek Auto Detailing NorthWest Auto Salon Motoring Unlimited Audi Sport Quattro Green


The white rally wheels were scrubbed and soaped up so much you would have thought the suds was snow buildup from a Swiss Alps shakedown!
Mill Creek Auto Detailing NorthWest Auto Salon Motoring Unlimited Audi Sport Quattro Green


After a thorough hand washing, the car was moved into the shop for taping, clay bar, and the up-close & personal light inspection.
Mill Creek Auto Detailing NorthWest Auto Salon Motoring Unlimited Audi Sport Quattro Green


Mill Creek Auto Detailing NorthWest Auto Salon Motoring Unlimited Audi Sport Quattro Green


The Quattro's body panels were definitely designed with strength & durability in mind – the paint however, was not. Surface conditions were poor in critical visual areas, and the diffused light revealed some serious buffer swirls and spider-webbed scratches encompassing the car's exterior components.
Mill Creek Auto Detailing NorthWest Auto Salon Motoring Unlimited Audi Sport Quattro Green


Having analyzed thy Quattro's points of correction, we set to work with the soft clay bar application to further clean & decontaminate the surface before embarking on an extensive 2-3 stage polish.
Mill Creek Auto Detailing NorthWest Auto Salon Motoring Unlimited Audi Sport Quattro Green


Once the exterior was worked over with the clay bar treatment, our techs began carefully buffing & polishing the surface reaching for an optimum level of shine. The carbon-kevlar isn't a very forgiving surface & not as receptive to reconditioning as more standard materials, but sure enough the paint began to show its true color after receiving each level of treatment. Just look at the difference seen in this 50/50 that was snapped just after the first stage of buffing!
Mill Creek Auto Detailing NorthWest Auto Salon Motoring Unlimited Audi Sport Quattro Green


Mill Creek Auto Detailing NorthWest Auto Salon Motoring Unlimited Audi Sport Quattro Green


The final stages of the buff & polish really brought the paint back to life and significantly reduced the opaque appearance of the Sport Quattro's stunning exterior.
Mill Creek Auto Detailing NorthWest Auto Salon Motoring Unlimited Audi Sport Quattro Green


Moving on to the interior of the Audi, our techs began the rigorous process of vacuuming, scrubbing all instrument panels & clusters, treating the leather bolsters and headrests of the vintage Recaro bucket seats, as well as q-tipping every last little bit of dirt and dust out of the ventilation system.
Mill Creek Auto Detailing NorthWest Auto Salon Motoring Unlimited Audi Sport Quattro Green


Mill Creek Auto Detailing NorthWest Auto Salon Motoring Unlimited Audi Sport Quattro Green


Mill Creek Auto Detailing NorthWest Auto Salon Motoring Unlimited Audi Sport Quattro Green


Mill Creek Auto Detailing NorthWest Auto Salon Motoring Unlimited Audi Sport Quattro Green


Mill Creek Auto Detailing NorthWest Auto Salon Motoring Unlimited Audi Sport Quattro Green


Once the interior detail was completed, it was time to head back into the wash bay for a final high-pressure exterior cleansing before a microfiber wipe down and blow dry to free up any remaining bits in the jams, crevasses & venting.
Mill Creek Auto Detailing NorthWest Auto Salon Motoring Unlimited Audi Sport Quattro Green


Notice how the water beads up on a freshly treated surface – the Quattro is now more aptly prepared to fair the rough northwest weather & take a muddy puddle without risking further contamination and damage to its beautiful (and newly reconditioned) box flares!
Mill Creek Auto Detailing NorthWest Auto Salon Motoring Unlimited Audi Sport Quattro Green


A non-oily, no-splatter shine & seal was then carefully applied to the Dunlop SPs to breathe a bit of life back into the tire wall.


Just as the Quattro reached the final stages of reconditioning, the sun broke and we had a brief opportunity to get the car outside for one final combing over before loading it into the trailer. Microfiber in hand, Tariq seized the moment and fastidiously worked the car's surface once more before sending it home to Motoring Unlimited!


Shining in the late sun, we packed the Quattro in for the journey home.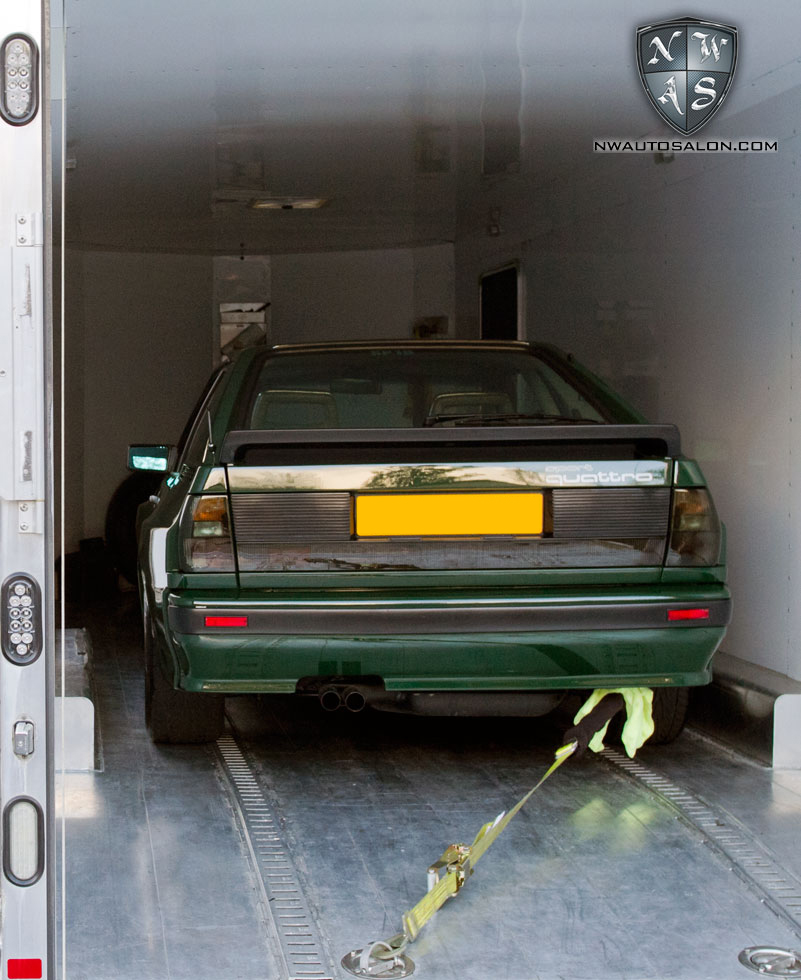 We really appreciated the opportunity to work on such a rare piece of automotive history, and hopefully you've enjoyed this brief peek into the extensive process we put into each & every detail that graces our garage doors!
If you are an Audi or Porsche owner seeking scheduled maintenance, major mechanical work, rebuilds, complete restoration or upgrades for track preparation, Motoring Unlimited's team has the skills to keep your vehicle performing at it's peak!
Motoring Unlimited is located at:
6010 221st Place SE Issaquah, WA 98027
For more information about services & availability at MU, contact INFO@EXPERIENCEMU.COM or call 425.391.5942.