It's been quite a year for us here at NWAS, and as 2013 begins to unfold, it seems like the perfect time to take a look back on all the vehicles, projects, events, and adventures that we had over the last twelve months. Buckle up!
DETAILING SPOTLIGHT
2012 brought us a pretty incredible variety of vehicles, from barn finds to some of the biggest & baddest machines the industry has to offer. We detailed and reconditioned so many cars, trucks, SUVs, and wagons it's hard to remember them all, so here's some highlights of our favorites…
CATS GTR
The year started off with a bang, Cats Exotics took delivery of a beautiful red Nissan GTR and we were happy to get it cleaned up and looking ready to attack. After administering the necessary treatments, we even staged a few shots with its smaller, radio controlled counterpart! Check out the full Connoisseur Detail Quick Look write up for more photos of this monstrous performance-bread import.
DINO 246 GT
Another car that caught our eye here at NWAS was a rather red '73 Dino 246 GT. Though the Dino is often forgotten & overshadowed by its more prominent, stallion-sporting counterparts, the 246 is a great example of classic Italian styling and driving performance. We made quick work of an interior & exterior reconditioning, and enjoyed breathing some life back into what is a nearly extinct lineage. Read up & see more pictures here!
Lynnwood Auto Detailing NorthWest Auto Salon Dino 246 GT
BUGATTI VEYRON GRAND SPORT
As far as heavy hitters go, we were payed a special visit from a rather well known Franco-Germanic hypercar nearing the end of spring. While E@RTC was gearing up for their inaugural meet, rumor had it that a Bugatti Veyron would be coming to town for a special appearance. Lynnwood Auto Detailing NorthWest Auto Salon Bugatti Veyron Grand Sport
As soon as the truck pulled up outside on that chilly May morning, we knew we were in for a treat. Not only did we get to clean & prep what many consider to be the car of the times, but the Veyron attracted a few other top speed contenders. Lynnwood Auto Detailing NorthWest Auto Salon Bugatti Veyron Grand Sport SSC Ultimate Aero Koenigsegg CCX
There's nothing like having 3 of the most powerful production cars in the world sitting right outside your doors!
THAT LOW MERC
Now, it might not be a super car, or even performance oriented, but the 250 S Mercedes was definitely one of the more memorable vehicles we detailed during the last year. Riding statically low and looking just as stately as ever, the 250 S stole our hearts with heavy oxidation and the foggiest of paint. It came in for a customized Connoisseur Detail & ended up receiving the works throughout. By the time it left, the chrome had been polished to shine like new & the paint had transitioned from a clammy off-white tint to the original paper white brightness of its former glory! Check out the post here for more shots of this lovely throwback.
Seattle Auto Detailing NorthWest Auto Salon vintage Mercedes 250 S
STANCE WARS 2012 WINNER: CAKEFACE 350Z
On the newer end of the low spectrum sits another favorite from this year, the 350Z that took the crown at SW12. Stance Wars 2012 had one of its strongest tun-outs yet and brought out some of the finest bagged, dropped, and slammed vehicles the northwest has to offer. Everything from domestics could be found on the ground this year, and the Forza team even dropped in to record some event footie for the release of Forza Horizon! Before the competition even had a chance to refresh their rides, the would-be winning bagged & stanced VIP 350Z came through NorthWest Auto Salon for a bit of interior & exterior reconditioning. For even more pics of this dangerously low beauty, check out the blog from late summer.
NWAS Seattle auto detailing StanceWars winner VIP 350z
GETTING CREATIVE: FORD GT TIRE STENCIL
We've had a lot of interesting creative projects throughout this year too. Besides a plethora of vehicle wraps, film innovations and custom graphic installs, we're always looking for new ways to improve and accent automobile aesthetics. One trend that seems to have revived itself over the last year is the age-old tradition of tire lettering. While it's rooted in racing & held purposeful designation in the past for tire type, nowadays tire wall stenciling seems to be going the way of the hashtag. Company branding, creative phrasing, inside jokes, and just about everything in between can be seen sprayed onto the walls of tires at shows all over the place. We wanted to break out something special for the recently acquired eGarage Ford GT, so we set to work designing some tire stencils out of vinyl, heated them into place, and used whitewall paint to fill in the lettering. Granted, the technique was a bit more tedious and labor intensive than the standard cardboard & spray paint route, but the end result was pretty crisp. Check out the video below or view the full blog entry here!
WRAPPED UP
This year also brought us some of the coolest wrap projects we've had yet. Aside from the standard issue "murdered out" look we've become so well known for, this year we installed everything from full color changes to custom graphics and retro styling to homage stripes & factory replica designs. We even had the opportunity to do a couple marine installs! As the year comes to a close, it seems like the vehicle wrap industry is changing & advancing at a crazy rate. With new film technologies and finishes being developed all over the globe, it will definitely be interesting to see how it effects automotive styling trends across all markets. As matte black & carbon fakebir start to fade into the background, the light of classically inspired colorways, vintage -esque race liveries, and unconventional textures is breaking over the horizon. A new age of wraps is upon us.
All that pontificating aside, let's take a look at some of 2012's wrap highlights…
OVERFINCH HSE
One of the biggest (physically speaking) wrap projects we had this year was a full coverage color change on a Range Rover HSE. It arrived in a relatively stock state, looking a bit bland in a factory gloss white finish and charcoal wheels, so we did something about it. Transformation came in the form of a full Overfinch body kit, matte metallic grey wrap, and a brand new set of DPE Wheels. It came together beautifully, and people are recognizing the car all over the Pacific NorthWest. See all the installation & glamor shots here!
Matte Metallic Overfinch Range Rover HSE on DPE Wheels
LAMBORGHINI STS: EDIZIONE TECNICA
As many of you already know, we like to stay as close to or just ahead of the curve as possible, so when we heard about the final iteration of the Lamborghini Gallardo & spotted the press release photos, we knew something had to be done. Cats Exotics acquired a rather rare Grigio Telesto Super Trofeo Stradale not too long ago, and given its red accents it seemed like the perfect opportunity to create a crazy "Edizione Tecnica" STS special before the real ones hit showrooms. Utilizing some glossy red vinyl, we applied overlays to the front air dams and down the roof arches, matching the red spoiler end caps, brakes, and interior treatment.
2013 Lamborghini LP 570-4 Edizione Tecnica unveiled
FERRARI STRIPE UPDATE
Keeping vehicles refreshed & looking clean doesn't just stop at detailing, either. We have a lot of returning customers who want to update their wraps & graphics as trending colors change, new materials get introduced, or their personal tastes shift. In 2011, we wrapped this Ferrari matte black and added some gloss yellow accents. In 2012, the yellow was removed and we decided to switch it up just a bit with a dual-layer red gloss/satin overlay scuderia stripe! The end result had a nice pinstripe like effect bordering the edges of the graphics, and complemented the red brakes excellently. See more of this project on the blog! Multi-layer installs take quite a bit of patience & time to line up registration and get the layers matched up perfectly, but the payoff is well worth the extra effort. We're looking forward to stepping up 2013 with some crazy multi-layer installs, overlays, and all sorts of vinyl trickery…
NWAS Seattle Vehicle Wraps Stripes and Graphics
DOUBLE VISION: R8 GT TWINS
People always want to know, "what's better than an R8 GT?" Well, we'll tell you. TWO R8 GTs. And not just two different ones, but two nearly identical Suzuka Grey R8 GTs getting detailed at the same time, while one receives a full satin clear protective wrap to make it stand out just that much more. It's always exciting to have identical cars in the shop, especially when they're limited editions or have a lengthy waiting list for prospective owners – it makes for great photo & video opportunities, and it's always cool to compare & contrast the fine details of these carefully crafted machines. We've have multiple multiples this year, but the R8 GT twins are definitely somewhere near the top of the list. Check out our video montage of the satin clear installation as well as more pictures from the past post!
Seattle Auto Detailing NorthWest Auto Salon Satin Wrap Suzuka Grey R8 GT
AUDI CYCLING TEAM SPONSORSHIP
Given our longstanding affinity for the four rings and all things with wheels, it was no surprise that we were excited to lend a hand when the Audi Cycling Team approached us about a potential sponsorship opportunity for their 2012 season. And What better way to show support than by wrapping the ACT Q7 TDI with a full satin clear protective film & installing a number of black diecut reflective graphics?
This project was definitely one of the more labor intensive wraps that we've had this year, but the completed look doesn't disappoint. It's sleek, on-brand, and even a bit menacing in a way of its own. The Q7 even ended up getting a small feature on QuattroWorld.com & picked up traction all over the web! Click through to view the full writeup with even more pictures of the Q.
Lynnwood Vehicle Wraps NorthWest Auto Salon Audi Cycling Team Q7
PROJECT EXODUS
Another wrapped favorite came to us from a couple states away in need of a matte black makeover. We were contacted by Aaron Curry of the Oakland Raiders to transform his Bentley Continental SuperSports into something that would run the streets in true Raiders fashion, and the full coverage matte black vehicle wrap did an excellent job of bringing the SS the edgier look it needed. The new matte finish complimented the gloss black wheels & tied together beautifully with the red & black interior. We loved the way it came together so much that we ended up using Exodus as inspiration for our latest headwear collab with Coal Headwear!
Seattle Auto Detailing NorthWest Auto Salon Matte Black Vehicle Wrap Bentley Supersports
For more pics of the install, check out the blog post from May or check out the final product in the short video montage below.
E320 WRAP TIME LAPSE
One of the quickest vehicle wraps of the year had to be the matte black install we completed on this Mercedes E320. The customer came to us looking for a new murdered out aesthetic without breaking the bank, and we delivered in full. Although the video only shows the wrap install, the car later came back for some wheel powder coating to complete the look. Some people might claim that the "all black everything" look is played, trending out, or just plain looks "cheap," but it's hard not to appreciate a proper blacked out appearance when it's done up right!
WATERCRAFT WITCHCRAFT: FULL WAVERUNNER WRAP
As we mentioned previously, we had the chance to do a number of marine installs this year beyond our standard fare of automotive wraps. We haven't seen too many complete color changes done on personal watercraft before, and the matte black & green wrap we executed was just what this WaveRunner needed to update its aesthetics and make it stand out when it hit the water. As with all our wraps, we started off by completely disassembling the WaveRunner and stripping off the tacky factory graphics. After laying down some monstrous slime green and black accents, we plotted some die-cut lettering and even a little personalized NWAS anchor badge so onlookers would know who gaped their wake.
See more of this watercraft witchcraft in our full writeup…
EVENTS
RED SQUARE CHARITY CAR SHOW 2012
2012 also marked the 5th anniversary of the NWAS x Cats Exotics "Red Square Charity Car Show" benefiting PAWS, and it just may have been the best one yet. With pristine weather, a tremendous turnout & and an incredible show of support for PAWS, RSCS5 brought out quite the crowd of exotics and onlookers for one of the more memorable shows we have had the pleasure of organizing on the UW campus. Between a handful of Lamborghini's finest from Cats, a smattering of other high performance exotics, import tuners, muscle, and classics, we had our automotive bases covered with just about everything any auto enthusiast might want to see at a car show. A Jurassic Park replica jeep even showed up! The RSCS commemorative t-shirts were a hit, we had plenty of food trucks on site to keep bellies full, and the video montage of the show we threw together came out pretty great even though we were shooting blind with the sun in our eyes and almost no sense of a storyboard or shot list. It might be one our favorite videos of the year!
Check out the Red Square Car Show facebook page and keep a tab on next year – given how well 2012 went, chances are we're going even bigger for 2013!
E@RTC INAUGURAL MEET
Exotics@Redmond Town Center had a pretty solid 2012 run, and while we might not have attended every single meet, we did make it one for the 1st meet of 2012, which might have even been one of the most diverse turnouts! There was the standard fare of Bulls & Horses, P-cars, and even one rather lemon-y (the color, we mean) Vector!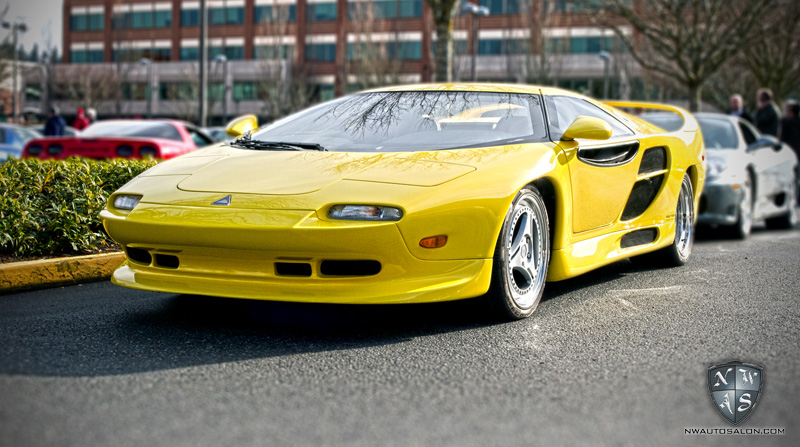 We showed up with two generations of the always lovely Porsche Turbo S, both in dressed in black and looking ready for a photoshoot, so once the E@RTC crowd died down a little bit we took off & headed for an impromptu eGarage photoshoot on Alki. If this is any sort of gauge for what 2013 will hold, there's a big chance we'll be stopping by more season openers with serious heat before organizing a small invite-only shoot once the crowds disperse…
AUDI EXPO AT GRIOT'S GARAGE
2012 also marked the first year of the Audi Expo at Griot's Garage. The Audi Expo has taken place at a number of different locations in the past, but this year they went big and secured Griot's flagship location in Tacoma, not too far down the road from the LeMay Museum. We helped sponsor the event along side QuattroWorld.com, Audi USA, University Audi and many more, and even brought out the satin clear wrapped Audi R8 GT we completed a couple months earlier!
MATRIX INTEGRATED DETAIL DAY
On one of the hottest days of Summer 2012, we teamed up with Matrix Integrated to offer a "detail day" at their facility in downtown Portland, and managed to recondition more vehicles in one day than some shops schedule out in a month. The whole thing was organized via QuattroWorld.com and other net avenues, and after we had roughly two handfuls of vehicles confirmed for details we picked a date and secured the locale. It was dry, 100+ degree heat from the moment we opened the big bay doors at Matrix Integrated, but with the assistance of the industrial fans we packed along with us and plenty of hydration, we made it work.
There are a ton of photos of the details, cars, some behind the scenes images to see from the write up, and we even put together a detailing montage of the process from start to finish, including plenty of sweet time-lapse footage of the entire day!
NorthWest Auto Salon Matrix Integrated Portland Detail Day
NorthWest Auto Salon Matrix Integrated Portland Detail Day
NWAS ABROAD: MONTEREY CAR WEEK ADVENTURE
EN ROUTE
There are few things that we look forward to each year as much as we look forward to Car Week in Monterey, California. It is in many ways, an epicenter of all that is good & holy to automotive enthusiasts, industry insiders, and gear heads alike. Monterey Car Week combines many facets of esteemed automotive culture, from the classiest of classy car shows that have stricter guest lists than White House garden parties, to raw, real, bumper to bumper racing on one of the most well known tracks in America. Oh, and auctions. Lots of auctions. We started the trip off right by converging on Monterey with a random fleet of vehicles including the eG RWB Porsche (which used to be blurple,) the loudest Range Rover in all of California, and Nissan Sentra "Brushed Edition," doing some car spotting in Carmel & laying out a plan of attack for the next few days.
Monterey Car Weekend Carmel Pebble Beach eG RWB rolling
Monterey Car Weekend Carmel Pebble Beach Porsche Carrera
Concorso Italiano
After car spotting came Concorso Italiano & the beginning of Monterey's automotive event-centric experience. We had the pleasure of driving the RWB onto the lawn & hiding it amongst the other imports, bordering somewhere in between Japan's finest, a number of other Porsche pieces and the rest of Europe's heavy hitters. It was a great day full of free food & drink, meet & greets, and plenty of 4-wheeled eye candy. See more of our favorites from Bertone, Pagani, Fiat, Ferrari, Lamborghini, and everything in between in our full review of Concorso Italiano 2012!
Monterey Car Weekend Concorso Italiano Pagani Huayra
Monterey Car Weekend Concorso Italiano Bertone Volvo 262 coupe
Rolex Motorsports Reunion
While Concorso was definitely cool, the final two events on our trip to Monterey stole the show without a doubt. Saturday marked one of the final days of the Rolex Motorsports Reunion at Mazda Laguna Seca raceway, and it was quite the sight to see.  It's the only place to go if you find great enjoyment in watching the type of vehicles one might expect to see in a legacy display at a  manufacturer museum being pushed to their limits, rubbing wheels and trading original paint like it's the first day they hit the track. It's open pits, so the crowds get plenty comfortable with the competition, though for the most part every team and driver we had the pleasure of interacting with was friendly and enthused to share their passion for history with every interested onlooker. We took a ton of shots from the hillside next to the infamous corkscrew, captured some crazy lineups of original Shelby Cobras, spotted a well-ridden 300 SL drop top, and even made it on TV! Not too shabby for a days work. 
Monterey Car Weekend Rolex Motorsports Reunion Mercedes 300SL convertible
Monterey Car Weekend Rolex Monterey Motorsports Reunion Shelby Cobra line up
Pebble Beach Concours d'Elegance
The final leg of our Monterey adventure took us to one of the most prestigious shows of the year and made for the perfect way to wrap up one incredible 5 day getaway. Fighting back sunburns & slight dehydration, we donned our finest fits and got our cameras at the ready for the officially unofficial unveil of the Ferrari F12, ogling plenty of fresh meat on the concept lawn, and of course taking in the complete collection of pristine, rare bits of classic perfection. The crowds were bigger than ever, but that didn't stop anyone from enjoying themselves. There is absolutely nothing like what can be experienced at Concours d'Elegance, and even if you're not a car lover, all it will take is an event like Concours to change your mind!
For more insight on what Pebble Beach has to offer, check out our full review.
Pebble Beach Concours d'Elegance 2012 Ferrari F12
Pebble Beach Concours d'Elegance 2012
SOCIAL MEDIA
This past year has also brought us a new facet of social media, and a new avenue to express them through. In many ways, the hashtag has revolutionized the way web users express, compile, and emote all types of metadata and informative tidbits throughout the content they post. For us, the pound-bound phenomenon seems to be grabbing our attention on Instagram more so than on Twitter, but regardless its accessibility and express-ability has made it a staple in all aspects of our social media projects. Just search #AutoDetail or #NWAS and take a look for yourself!
INSTAGRAM
We forged ahead into new photo-sharing territory in 2012 with this ever-popular mobile app, gaining 2.000+ followers in a matter of months and watching our photos reach new heights of interactivity and visibility as they were picked up by bigger and better 'grammers like Audi and QuattroWorld, even finding their way on stage at the LA Auto Show thanks to one TDI and a little bit of #FuelForThought! Even though Instagram is still growing into their own and working out the kinks between users and advertisers, we'll be continuing to use the application and keep an eye on how the photo-sharing utility can bring new light to automotive detailing, reconditioning, and all the incredible vehicles we get the pleasure of working with.
Follow NWAS and check out our Instagram profile page for even more updates and behind the scenes action as we kick off 2013!
FACEBOOK
We also made quite the leap in Facebook reach this year. While the walled garden approach of social media isn't exactly one we agree with, the usability and accessibility of Facebook for brands to build a supportive fanbase and reach clientele is nearly unmatched by any other free service, and we're still amazed by the amount of people who will see our content half way across the world and recognize it as NWAS! By this time last year we were just pushing up around 2,4000 fans, which seemed like a pretty considerable amount for a small automotive detail shop in Lynnwood. In just one years time, we saw a drastic increase of nearly 5,900 fans from the farthest reaches of the globe! We owe a lot to our promotional partners at eGarage & friends at QuattroWorld for bringing us millions of eyes from pages like Audi USA and other large corporate entities. One of the hottest shares of the year had to be one of the most recent, with 12 twelve cylinders from Cats Exotics on 12/12/12 at 12:12, pushing up an almost instantaneous 100 likes & shares.
Just a few days later, Cats brought in their brand new RS5 for a quick Basic, and the photo was picked up by QuattroWorld's page – one bump from QW was all it took, and the image skyrocketed in likes and views pulling down 800+ shares and nearly 500 likes!
With 2013 already shaping up beautifully, we can only hope that our social media efforts will be as fruitful as they have in the past. Maybe this year we'll even pioneer a hashtag campaign like #FuelForThought or #WantAnR8 all on our own! Keep an eye on our FB page & give us a 'like' to get all the latest NWAS content right in your FB news feed.
BEST OF WESTERN WASHINGTON
It was an incredibly close race for King 5's Best of Western Washington this year, and thanks to our supportive clients, friends & family, we managed to secure another year on the podium. For the last three years in a row we have pushing everyone to vote for the best in Auto Detail, and for the last three years the public answered back with a resounding "NWAS." It's an incredible feeling to have the support of so many people in the greater Pacific NorthWest for three years in a row, and that's really all we've wanted. We might not push as hard for the title in 2013 since we already locked down a hat trick, but let it be known that we will never stop raising the bar and continuing to provide the best in reconditioning & automotive services that the west coast has to offer.
NEW MERCH & STORE UPDATES
We made some serious updates to our shop merchandise offerings in early 2012, and brought the heat out once again right before the holidays. Back in February we officially opened the NWAS Webstore with offerings of 3 new limited edition t-shirts, plenty of die-cut stickers and badges, plate frames, and even some machined key chains. The first batch sold out pretty quickly, and we only had a few random sizes left for retail by the time Red Square Car Show rolled around! To add a little more punch to the donations, we decided to create a special edition RSCS t-shirt that sold at the show benefiting PAWS, and were later listed in the shop. We only have a few sizes left of those too, so if you want to grab one keep an eye out – rumor has it we'll be putting a few items on sale as we start to roll out fresh prints for 2013.
As for the Holiday heat, just a couple weeks ago we released a customized panel cap collaboration with Seattle's own Coal Headwear called the "SuperSports." This stylish camp hat takes cues from Project Exodus, and is easily one of the more breathable & comfortable strapbacks we've ever worn! For some more promo shots and construction details, check out the post here, or pick one up in the store while supplies last!
Well, that about does it for us in 2012. It's been quite an experience, and we're looking forward to what 2013 has to offer. Stay tuned!